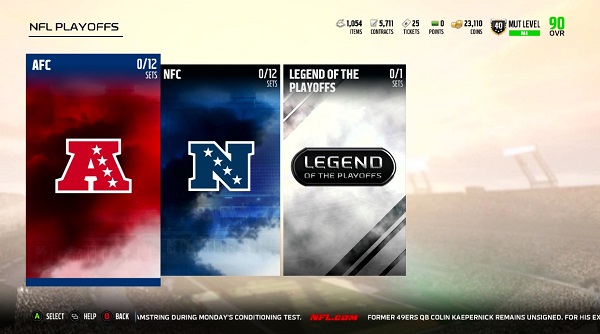 Today EA released the MUT 18 Playoffs program, featuring a 97 OVR Deion Sanders as Legend of the Playoffs. There are also 12 Playoff Captains, and you can see who they are and all of their ratings below:
Each playoff team has 6 Elite Playoff player items and a Captain. You can see all of a team's NFL Playoff items by going to the Muthead Database and sorting by team.
Sets
When you complete the Legend of the Playoffs set, you get to choose whether you'd like the Cowboys, Falcons, or 49ers version of Deion Sanders. You also receive all 12 Captains back as NAT items.
There is one captain for each of the 12 NFL teams that made the playoffs this season. Each Captain set takes 6 team-specific elite Playoff Player items. You can see all of the NFL Playoff player items in the Muthead Database.
You can get team-specific Playoff Players by completing sets or on the auction house. The Playoff Players sets take 4 team-specific Silver Tokens and 4 team-specific Gold Tokens.
Solos
There is a new solo sequence available called the NFL Playoff Challenge. It has 13 solos, requiring you to defeat all of the playoff teams and then play a final challenge against the "All-Playoffs" team. For completing this sequence, you will receive 25,750 coins and an Elite Fantasy Playoffs Player Pack with an 89+ OVR NAT.
Packs
An NFL Playoffs Premium Bundle is available for 2,200 points (limit 4). This contains 3 NFL Playoffs Premium Packs.
The NFL Playoffs Premium Packs guarantee an Elite Playoffs player. You can buy them individually for 1,100 points or 60,000 coins (limit 8).
Finally, there is a NFL Playoffs Pack that costs 650 points or 35,000 coins (limit 12). These contain a guaranteed NAT Playoff Elite.
What is your initial reaction to the NFL Playoffs Program? Are you planning on completing the Legend of the Playoffs set to get Deion Sanders and the 12 Captains?