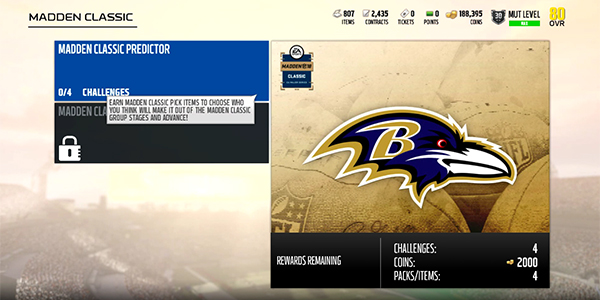 H2H Seasons Series 2 Rewards
The H2H Seasons Series 2 Master is Janoris Jenkins. See his rating here:
The Series 2 Master Janoris Jenkins requires 120 "Series 2 or Higher" Seasons Tokens and he is Auctionable/Tradeable. If you'd rather spend your Series 2 tokens elsewhere, you can do repeatable sets for an 84-87 OVR Elite Player (18 tokens) or an 88-90 OVR Elite Player (55 tokens). The players you receive from these sets are also Auctionable/Tradeable.
Madden Classic Predictor
If you attend the Madden Classic tournament, you can get a code for a free 91 OVR Jerry Rice.
There are new Solos and Upgrade Sets built around the upcoming Madden Classic tournament. You'll have the chance to earn 100,000 coins and make your selection for who you think will move out of Group Stages. Here's how it works:
There are 12 Madden Classic solo challenges. For completing the Madden Classic Predictor Sequence (4 challenges), you'll earn Madden Classic Pick items that you can use to predict winners in the Madden Classic tournament (which takes place on Oct. 21st). There are 8 competitors to choose from:
Tweeez
Kaus
SteveyJ
Duke
Joke
Dubby
Trueboy
Skimbo
Each correct choice will earn you 1500 coins.
The remaining 8 solo challenges are in the Madden Classic Sequence and are locked until you purchase the Madden Classic Championship Pass for 1,000 points or 75,000 coins from the store. This pack will let you choose any of the 32 coaches with Madden Classic Chemistry, and equipping the coach you choose will unlock the sequence. You will earn 100,000 coins total for completing all 8 challenges in the Madden Classic sequence.
Who do you think will advance out of Group Stages?