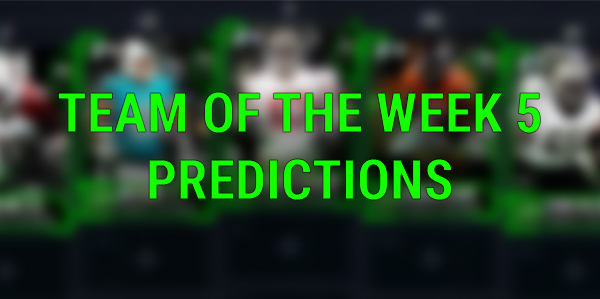 Team of the Week 5 comes out tomorrow and we want to know who you think deserves an upgrade. Which players will EA reward with a new item, and which players will slip through the cracks once again?
To get things started, we've analyzed all the great performers from this week's games and put together a list of our predictions. Check them out below:
Offense
QB - Carson Wentz (4 TDs, 304 yards)
HB - Leonard Fournette (181 yards, 2 TDs)
HB - Aaron Jones (125 yards, 1 TD)
FB - Mike Tolbert
WR - A.J. Green (189 yards, 1 TD)
WR - Davante Adams (66 yards, 2 TDs)
WR - Tyreek Hill (KR TD)
TE - Ed Dickson (175 yards)
LT - Cam Robinson
LG - Anthony Steen
C - Ryan Jensen
RG - Jahri Evans
RT - Rick Wagner
Notable:
Cam Newton (3 TDs, 355 yards)
Aaron Rodgers (3 TDs, 221 yards)
Deshaun Watson (5 TDs, 261 yards)
Mike Wallace (133 yards)
Melvin Gordon (105 yards rushing, 58 receiving yards, 2 TDs)
Defense
CB - Jason McCourty (5 tackles, 1 FF, 1 INT)
CB - Dontae Johnson (9 tackles)
CB - Morris Claiborne (9 tackles, 1 INT)
SS - Tyvon Branch (10 tackles)
FS - Tashaun Gipson (6 tackles, 2 INT)
LOLB - Melvin Ingram (6 tackles, 2 sacks, 1 FF)
MLB - Mark Barron (15 tackles)
MLB - Blake Martinez (12 tackles)
ROLB - Vontaze Burfict (13 tackles)
RE - Michael Johnson (2 sacks)
DT - David Irving (5 tackles, 2 sacks)
DT - Javon Hargrave (10 tackes)
LE - DeForest Buckner (5 tackles, 0.5 sack)
Notable:
Barry Church (5 tackles, 1 INT, 1 TD)
Jabaal Sheard (7 tackles, 1.5 sacks)
Kiko Alonso (7 tackles, 1 sack)
Telvin Smith (10 tackles, 1 INT, 1 TD)
Keep in mind that these are our personal predictions, and none of these players are guaranteed to receive an item. There's still one game to go, too, and anybody on either MIN or CHI could absolutely dominate the game and earn an upgrade.
Giveaway
We're giving away a Team of the Week 5 Master player item (NAT) to one lucky Muthead member. To enter, leave a comment on this article with your predictions for both offense and defense Master for TOTW 5. One member who gets both correct will be selected at random as the winner. If no one gets both right, we will draw a random winner from all comments. Editing your comment or leaving multiple comments disqualifies you from winning. Entry ends at 2 AM ET tomorrow (10/10).
Winner: hawke417