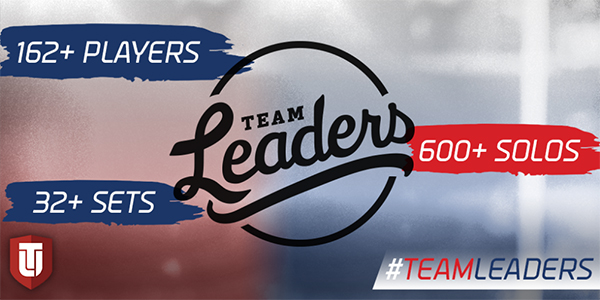 Since launch, there have been countless questions in the MUT community regarding the much-anticipated Team Leaders program. We finally have some answers. Jake Stein, Associate Producer for Madden NFL 18, posted in our forums explaining what's changing with the program and why. We strongly recommend you read it as it contains a lot of important information about Team Leaders:
Team Leaders is Here Forum Post
The first thing you need to know is that the Team Leaders program will go live today, ahead of schedule due to Hurricane Irma (EA Tiburon is located in Orlando, FL).
Each team has 5 Team Leaders players, each with two versions: 80 OVR and 86 OVR. All Team Leaders players are NAT, so you will have to earn them instead of buying your favorite players on the auction house.
There is a new 16-game solo challenge sequence for every team that requires increasing tiers of a given team's chemistry in order to unlock. Defeating the entire sequence will allow you to choose 1 of the 5 80 OVR Team Leaders player items for that team.
Next, you'll need to unlock the other 4 80 OVR Team Leaders for a team. This is done through Team Leaders sets. Each set requires a gold and a silver Team Token for a specific team and rewards you with a choice of the 5 different 80 OVR Team Leaders. Want to skip the grind? Just complete the set one more time (5 total) and bypass the 16-game solo challenge sequence.
Once you have all 5 of the 80 OVR Team Leaders for a team in your lineup, you will be able to defeat a 3-game Elite Team Leaders solo challenge sequence. If you beat it, you will be able to choose one of the 86 OVR Team Leaders for that team. You will only be able to choose 1 of the 5 86 OVR Team Leaders for each team. There is no way to earn the others, so choose wisely.
In addition to all of this, there are two Team Leaders Masters: Khalil Mack (AFC) and Odell Beckham Jr. (NFC). These players can be auctioned and traded. Each time you complete an Elite Team Leaders solo challenge sequence, you will also get a collectible for that team. Trade in all of the collectible for a given conference for that conference's Team Leaders Master. According to Mike McFadden, Masters players will not be eligible for Power Up tiers.
For the full list of Team Leaders, check out our database or Jake Stein's post in our forums.
What do you think of the new Team Leaders program?