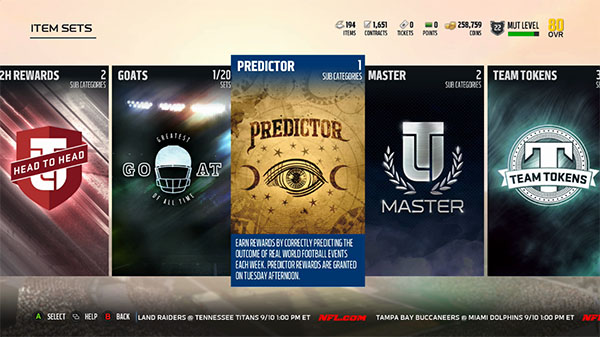 If you have been playing MUT for years, you're likely familiar with the Predictor program. If you're new or need a refresher, we've got you covered:
To start, there are two NFL Predictor Week 1 solo challenges. You will need to be at least MUT Level 6 to play the final solo challenge. You will earn a total of 2,000 coins and 32 Predictor Tokens (split between True and False) by defeating the solo challenge sequence.
The next step is to head over to the Predictor section of Upgrade Sets. There are a total of 32 Predictor sets that correspond to a statement about Week 1 of the NFL Season. If you think the statement will be true, complete the set with a True Predictor Token. If you think it will be false, complete it with a False Predictor Token. If you don't have the right number of True and False Predictor Tokens, you can trade them 1-for-1 in the Token Swap sets. The sets lock on Sunday 9/10 at noon ET.
You will earn 250 coins for each correct prediction. It doesn't sound like a lot, but if you just get 50% of them correct, it still comes out to a free 4,000 coins for not much effort. On top of that, if you do exceptionally well, there are bonus rewards:
20 correct: 5,000 coins
24 correct: 15,000 coins
28 correct: 50,000 coins
Most: 89+ OVR player choice
If you get the most correct (or are tied for the most) in the MUT community, you will get to choose an 89+ OVR player item to be added to your team. Rewards are granted on Tuesday afternoon.
What do you think of the Predictor program? How many do you think you will get right this weekend?