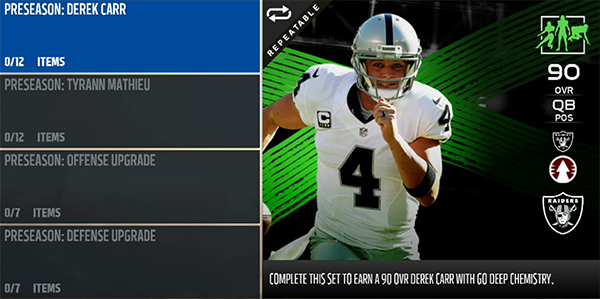 Team of the Week is back and unlike any TOTW we have seen in Madden Ultimate Team in the past. This season, each TOTW will consist of 26 players filling out a MUT lineup. There are 12 regular TOTW player items released for each side of the ball along with an offensive and defensive Master. This week's Masters are Derek Carr and Tyrann Mathieu.
In order to unlock either Master, you will need to trade in all 12 regular TOTW items for this week on a given side of the ball in the new TOTW sets. Additionally, both offense and defense have TOTW upgrade sets that require all of the gold TOTW items for offense/defense and reward you with a random elite TOTW item.
Check out the full Preseason TOTW lineup, or the player list below:
Offense
Defense
There are also two new TOTW solo challenges. If you defeat both of them, you will earn 1,500 coins and a random TOTW player from this week.
What do you think of the new expanded TOTW format?