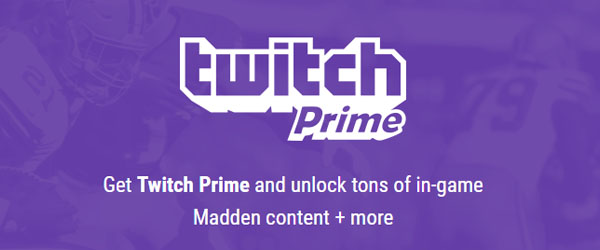 So by now you've probably heard about Twitch Prime Legends, but there are still a lot of questions about the program in the MUT community. We'll walk you through the program and tell you everything you need to know to start unlocking Twitch Prime Legends every week.
Twitch Prime Legends
Starting with Madden launch and for the following 24 weeks, MUT players with Twitch Prime will receive at least an 83 OVR Legends player item every week. Here are the Twitch Prime Legends so far:
Launch - Reggie White: 85 OVR, 90 OVR
Week 1 - Rodney Harrison: 83 OVR, 90 OVR
Week 2 - Mike Singletary: 83 OVR, 90 OVR
You'll notice that there are two version of each player. The lower version is unlocked just by being an active Twitch Prime subscriber. The higher version is earned by completing a Twitch Prime Legends set which requires the lower OVR version along with 4 Twitch Prime collectibles.
When you first sign up for Twitch Prime and link your account with Madden (details on this below), you will receive 85 OVR Reggie White along with 5 Twitch Prime collectibles. Each week after that, you will receive that week's Twitch Prime Legend and another Twitch Prime collectible. You won't be able to upgrade all of your Twitch Prime Legends to 90 OVR, so choose carefully.
Other than Reggie White, you will only receive Twitch Prime Legends that are released while you have an active subscription. If you sign up later in the season, you will be unable to earn many of the early Twitch Prime Legends players.
How to Get Twitch Prime
Twitch Prime is completely free with an Amazon Prime membership. If you're already an Amazon Prime member, all you have to do is link your Twitch account with your Amazon account. If you don't have Amazon Prime, you can start with a 30-day free trial. After that, an Amazon Prime membership is $10.99/month or $99/year. You can cancel at any time.
Since Twitch Prime is just an added benefit of Amazon Prime, you get all of the other Amazon Prime benefits when you sign up like unlimited free two-day shipping on Amazon.com, Amazon Music, Amazon Video, etc. On top of that, you receive free in-game loot every month for a variety of games, ad-free viewing on Twitch, and a free Twitch subscription to your favorite streamer every month.
How to Receive Twitch Prime Legends
There are a few steps to this, but they're all really easy. Here's how it works:
Step 1: Have an active Twitch Prime subscription (details above)
Step 2: Link your Twitch account to your EA Account by going here
Step 3: Log into MUT and the rewards will be delivered to your account
That's it. You will only be able to claim Twitch Prime Legends released in the past 30 days. That means you will have to log into MUT at least once every 30 days with an active Twitch Prime subscription to claim all of the available Twitch Prime Legends.
Signed up but not getting your Twitch Prime Legends?
Something might have happened when your accounts were being linked together. The good news is you can unlink your accounts and try again.
To unlink your accounts, first go to your Connections page on Twitch. Find Electronic Arts, under Other Connections at the bottom of the page and click disconnect.
Next, you'll have to unlink your accounts on EA's side, too:
1. Click Contact Us at the top of help.ea.com.
2. Choose Madden 18 as your game.
3. Pick your platform that you play on.
4. Click Twitch Prime for the topic.
5. Click Account link issue for the issue.
6. You'll be taken to a page where you can Click here if you need to unlink your EA Account
from your Twitch account.
Now that you've unlinked your accounts, you can relink your Twitch account to the right EA Account to start getting your rewards.
Still didn't get your Legend rewards? Contact Twitch for help.
Get more info about Twitch and Madden NFL 18 on help.ea.com.
#MaddenDrops
Each Friday night from 8-10 PM ET, EA Sports will feature a different stream as "Friday Night Madden" on Twitch. This stream will reveal the week's new Twitch Prime Legend and you can earn Drops just by tuning in. Drops can vary, but we've been told to expect the Drops to be a pack that contains 4 silver or better players which means chances at gold and elite player items.
Keep in mind that for this to work, you will need to link your Twitch account with your EA account. As long as your account is linked, all you have to do is show up to the stream. Follow @EASPORTS_MUT on Twitter for more details on Friday Night Madden streams.