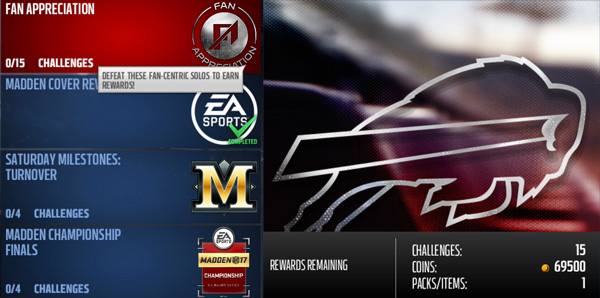 Today EA dropped a little surprise on the Madden Ultimate Team community! Along with new sets for Ultimate Legends Jerry Rice and Mike Singletary, EA also released two Fan Appreciation sets that allow you to add any 50 elites to earn a random Ultimate Legend set hero. These sets are non-repeatable, but EA has created two sets so you could do them a couple of times.
EA also released a new Limited Time Fan Appreciation solo challenge sequence. This solo challenge sequence contains 15 solo challenges and once you complete them you will earn 69,500 coins and a NAT Ultimate Ticket Player. You can find the full list of Ultimate Ticket Players you can earn from the Fan Appreciation Solo Reward Pack here.
One thing we want to highlight is that you want to complete the new sets and solo challenges this weekend because they expire on Monday, June 19th at 10AM ET.
What do you think of the Fan Appreciation Program? Let us know which Ultimate Legend heroes and Ultimate Tickets you pull out of your packs.