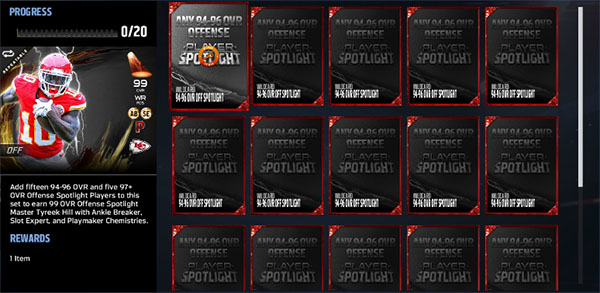 EA Sports kicked off the brand new Player Spotlight program today with a 99 OVR Tyreek Hill as the offensive set master reward along with a 99 OVR C.J. Prosise as the offensive solo master reward. Here is the full list of new Player Spotlight items released today:
Elite Player Items
Gold Player Items
The new program is really straight forward. To unlock Tyreek Hill, you will need five 97+ OVR Player Spotlight items and fifteen 94-96 OVR Player Spotlight items for the master set. You can trade in 20 gold Player Spotlight items for a random elite offensive Player Spotlight item through the upgrade set.
Each week, we can expect a new Player Spotlight solo challenge sequence. This week's sequence consists of 6 games that reward you with 6,000 coins, a gold Player Spotlight item, and Braxton Miller. Miller cannot be auctioned or traded and you will need him to unlock next week's Player Spotlight solo challenges. We expect C.J. Prosise will be earned by completing all of the weekly solo challenges for the remainder of the program.
What are your thoughts on the new Player Spotlight program?