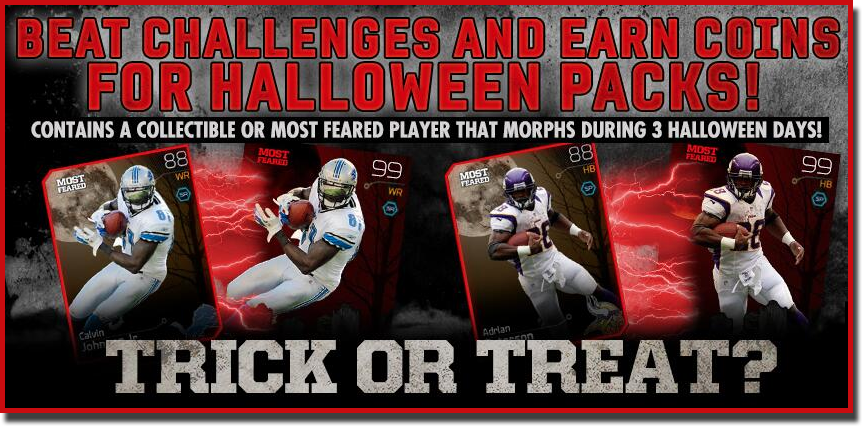 Starting tonight, MUT's much anticipated Most Feared Halloween promo is in full swing. We have everything you need to know to get the most out it. The best part about this year's Halloween promotion is that you won't need to break the bank to enjoy it! Everything you need to participate is obtained through playing the game, not spending money. That's probably the coolest aspect of this year's Halloween content. Here's everything you need to know:
Most Feared Cards
There are 20 new Most Feared cards in total. 18 of them can be found in Pro Packs and brand new Trick or Treat packs. The other two, Mike Alstott and Lawrence Taylor, are collection rewards. The cards are all rated in the mid to high 80s in terms of OVR, but there's a huge twist. On the morning of 10/30, they'll morph into 99 OVR versions! On the morning of 11/2, they'll turn back into their regular versions and you'll be able to collect them to unlock the Legendary Halloween players. Here's a list of all 20 Most Feared Halloween cards:
Trick or Treat Packs
You can find the Most Feared cards in new Trick or Treat packs with significantly better odds than in Pro Packs. Trick or Treat packs contain 4 cards consisting of contracts, quicksell coin cards (worth up to 100k), and Most Feared player cards. You are guaranteed at least one quicksell coin card or Most Feared player in every pack. You can't buy these packs with cash, you can only earn them though gameplay. Each H2H Seasons milestone other than "Avoid Demotion" will earn you a Trick or Treat pack on top of its normal reward. Additionally, every new collection over the next two weeks will also have a Trick or Treat pack as a bonus reward. New Solo Challenge sequences that do not already have a card/pack reward will also include a Trick or Treat pack reward.
Jumbo Trick or Treat packs are identical to regular Trick or Treat packs except they guarantee an additional Gold or better card. These can be purchased with coins only, for 10,000 per pack. There is a limit of one per day per account on these.
Most Feared Collection
If you're able to obtain all 18 Most Feared cards that are found in Trick or Treat packs, you can complete the Most Feared collection. It will reward you with both new Legends, Alstott and Taylor, along with 15,000 coins. The collection will not be removed after the promo, so you'll be able to use your Most Feared cards as their 99 OVR versions between 10/30 and 11/2 and collect them afterwards to receive the new Legendary players. If you're able to complete the collection before 11/2, the reward cards will temporarily morph into 99 versions as well!