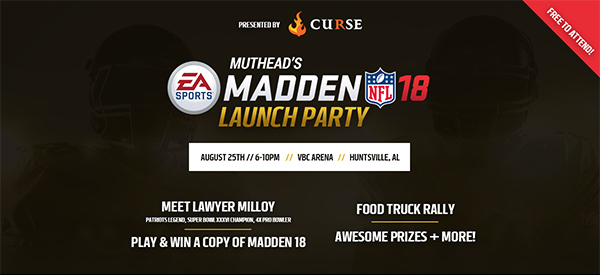 We are excited to announce our 5th annual Madden Launch Party! The event is open to the public and if you are in the area, we hope that you decide to join us. Here are the details:
WHEN: August 25th from 5-10 PM
WHERE: Von Braun Center in Huntsville, AL
COST: Free!
We have a very special guest attending our launch party this year. Patriots legend, Super Bowl XXXVI champion, and 4x Pro Bowler, Lawyer Milloy will be joining us and signing autographs at the event. You will also have a chance to meet some prominent content creators in our community such as QJB, Stiff, Noobkill, ZAN, Cookieboy, KayKayEs, Kraelo, MUTWieners and Madden community manager, MUTGuru.
As always, you can expect several gaming stations to play Madden 18 and a series of Madden Pro Day challenges in which you can show off your real-life football skills for a chance to win one of hundreds of copies of Madden 18! Just for showing up you will receive a raffle ticket that gets you a chance to win a copy of Madden 18, signed NFL memorabilia, and other exciting prizes. There will be a food truck rally at party as well, so come hungry.

If you are planning to make the trip, be sure to RSVP here. You'll have to be an active Muthead Supporter to help make sure we're getting only valid RSVPs. If you RSVP, we will have a Muthead gear pack waiting for you when you arrive along with a Muthead VIP badge that gets you in to a special area of the launch party that is only for community members. If you're traveling to Huntsville for the party, we recommend you stay at the Embassy Suites which is connected to the Von Braun Center. Let them know you're with Muthead for a group-rate discount.
Can't make it to Huntsville for the party? Don't worry. We will be live streaming the entire event on twitch.tv/mutheadtv. Tune in on August 25th at 6 PM to catch all the action and join us wherever you happen to be.