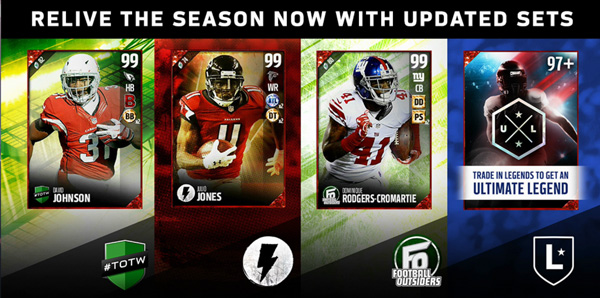 Today EA released an in-season refresh of some of our favorite programs throughout the MUT Season. Now, you can collect players from Flashback, TOTW and Football Outsiders programs to earn a 99 OVR player for each program.
Here is a list of the new player items with their ratings along with what is required to complete them:
Julio Jones (Flashback Master - All 33 Flashback set hero players required)
David Johnson (TOTW Master - All 36 TOTW set hero players required)
D. Rodgers-Cromartie (Football Outsiders Master - 40 specific Football Outsider players required)
Also, if you have any extra legend players (90-96 OVR) laying around in your binder, there is a new Ultimate Legend set that allows you to trade in any 15 legend player items to earn 1 random full Ultimate Legend.
What do you think of this unexpected in-season content refresh? Will you be adding any of the new Masters to your team?