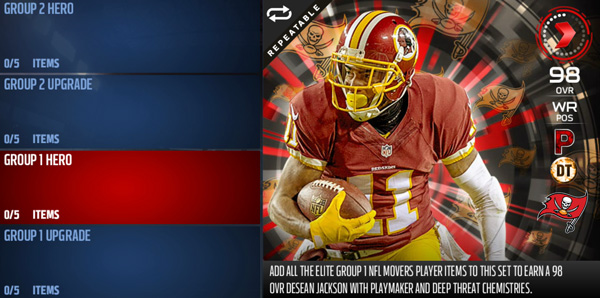 Today EA released the NFL Movers program that highlights players that have changed teams during Free Agency for the 2017 NFL Season. If you are familiar with the Season Star program, then this program will be pretty similar. Here is a quick recap of the NFL Movers Program:
NFL Movers are broken into groups. Each group will have a NFL Mover set hero which required 5 unique NFL Mover elite players for that specific group. Elite NFL Movers players can be pulled from packs, earned through solos or upgrading players through the Group Upgrade sets.
Here are the full ratings on the new NFL Movers player items:
Group 1
Group 2
Group 3
Also a new NFL Movers solo sequence which contains 3 solo challenges has been released. Each time you complete a solo challenge you will receive a Gold NFL Movers Pack. These packs guarantee a Gold NFL Mover player but you do have a chance at pulling an Elite NFL Mover player.
What do you think of the NFL Movers program? Which NFL Movers will you be adding to your lineup?