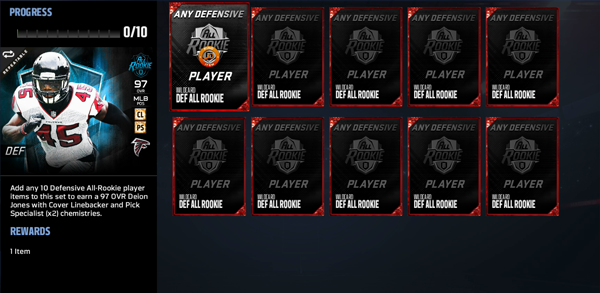 Today EA launched the All-Rookie Defense program and it is headlined by 97 OVR Deion Jones All-Rookie Defense Master . If you are plan on getting Deion Jones, all you need to do is add any 10 defensive All-Rookie player items to his set.
You can find defensive All-Rookie players in packs or by completing the All-Rookie Defense set. By adding 30 All-Rookie defensive stat collectibles (12 specific, 18 wildcard) to this set, you can earn a random All-Rookie elite player item (93-96 OVR).
Make sure to play your All-Rookie solo challenges as they guarantee you one specific All-Rookie defensive stat collectible for each player, an All-Rookie Defensive pack and 10,000 coins. There are also new All-Rookie objectives that will give you 15 random All-Rookie defensive stat collectibles and upon completion an All-Rookie defensive reward pack.
Here are all the All-Rookie defensive player items and their ratings:
What do you think of the All-Rookie defensive selections? Will you be adding any of these players to your lineup?