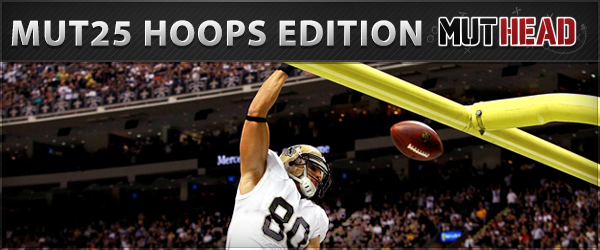 Hoops Edition content is making a comeback to Madden Ultimate Team this year, but with a huge twist! We've got you covered as usual with everything you need to know. All of this year's Hoops Edition content will be released starting this Friday, 4/4. Here's an overview:
Hoops Edition content this year revolves around one Hoops Edition collection. It will require 20-30 collectibles that can be found in packs starting Friday. We don't have a full list, but here are ones we are able to confirm at this point:
Jimmy Graham
Antonio Gates
Tony Gonzalez
Martellus Bennett
Julius Peppers
If you're able to complete this collection, you're in for an insane reward. The collection unlocks a Cleveland Browns LeBron James as a Tight End. We certainly don't expect him to be easy to obtain, but if you're able to pull it off, you'll have one of the most explosive players MUT has ever seen. Unfortunately LeBron can't be sold or traded, so the only way to get your hands on him is through the collection.
I hope you all had as much fun with April Fools' Day as we did!