EA Sports released a major update to MUT Gear today that introduces thousands of new dual-chemistry uniforms. There are two new sets that each require 25 MUT Gear items. The reward is a random light or dark uniform with two elite chemistry types.
Every combination of two elite chemistry types (and two of the same chemistry type) exists for each NFL team, both home and away. These uniforms can be auctioned and traded, so now you can find the perfect uniform to fit the chemistry types you're using and represent your favorite NFL team at the same time. This has the potential to dramatically change how the MUT community assembles their lineups. It's important to note that uniform chemistry types are always active for both light and dark uniforms, regardless of which you're wearing in game.
Key Takeaway: every team now has a uniform for every combination of two chemistry types. Given that there are so many possible combinations, it may be a while before the exact uniform you're looking for surfaces on the auction house.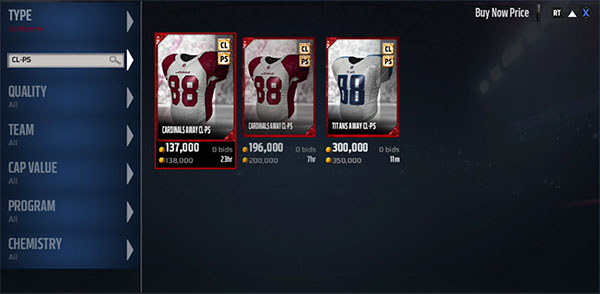 Auction Search Pro Tip
Use the text search to find a uniform with the exact chemistry combination you're looking for. For example if you are looking for a uniform with Cover Linebacker and Pick Specialist, enter "CL-PS" in the search box. You can then use the team filter to narrow the results even further.
What do you think of the new uniforms? Which uniforms do you hope to add to your MUT team?