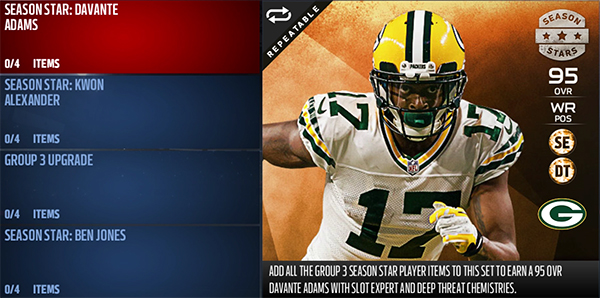 Today, EA released in Madden Ultimate Team a new offseason program to kick off #MUTSeason. Season Stars (SS) highlights NFL players that had outstanding performances in the 2016 NFL Season. Here is a quick recap of the Season Star Program:
Season Stars are broken up into 3 groups. Each group has an offensive and a defensive SS hero that can be earned by collecting specific SS player items for that group. Season Star player items can also be earned through a solo or found in packs. You can also complete the SS Group Upgrade sets that requires 4 specific SS collectibles from each group to earn a random elite SS player item.
Limited Time Season Star Group Heroes are available in packs for a limited time.
Here are the full ratings on the new SS player items:
Group 1
Group 2
Group 3
What do you think of the new Season Stars program? Which Season Star will you be adding to your lineup?