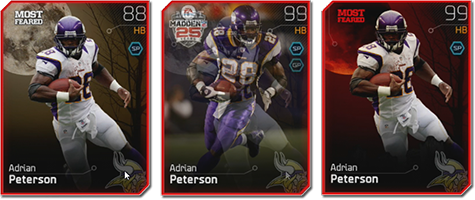 In honor of today's full moon on Friday the 13th (something that won't happen again until 2049), all Most Feared have morphed back into 99 OVR versions! If you weren't around for the Most Feared content over Halloween, check out our news post for everything you need to know. It's not quite the same as back in October. There's a twist. All Most Feared cards will take on the ratings of that player's most recent card (if that player has a 99 OVR version) excluding limited editions. For example, Most Feared Adrian Peterson will become All-25 Adrian Peterson in terms of ratings. Unfortunately, Most Feared cards are not being reintroduced in packs, but they'll stay in their new 99 OVR forms throughout the weekend.
Here's a list of the Most Feared cards and that player's most recent 99 OVR:
Do you have any left over Most Feared cards from earlier in the year you'll be using over the weekend?