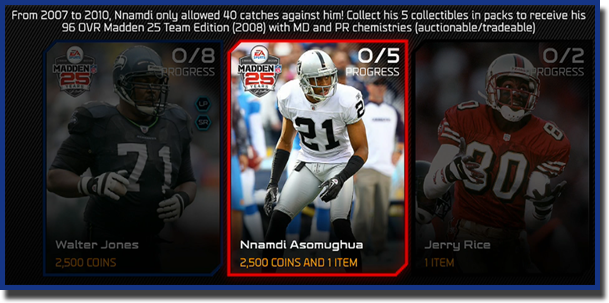 Two new members of the All-25 Team hit packs yesterday morning. Walter Jones is making his Madden Ultimate Team debut as a legend. Joining him this week is Nnamdi Asomugha, who is currently a member of the San Francisco 49ers. Back when he was playing across the bay in Oakland, many considered him to be the top cornerback in the game. His All-25 Team card is a throwback to Madden 08.
To unlock Walter Jones you'll have to first complete his collection which requires eight different collectibles. Then you'll have to play a single solo challenge. It's a bit easier if you're looking to add Nnamdi to your starting lineup. You'll just need all 5 of his collectibles to complete the collection which rewards his All-25 Team card directly.
Are you interested in either of these new All-25 Team members? Leave us a comment.