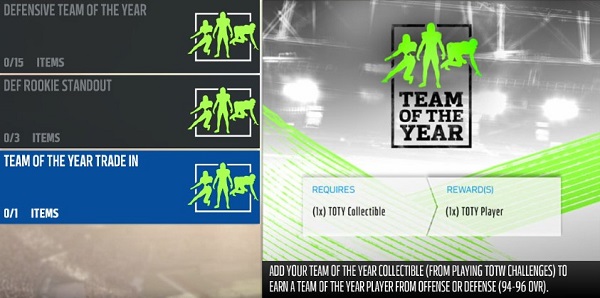 Today EA released the much-anticipated Team of the Year (TOTY) program, featuring standout performers from the NFL season. The Defensive TOTY Players were the first to be released and the Offensive TOTY players will be released next week.
In addition to TOTY players, EA has also released TOTY Rookie Standouts. These items feature NFL rookies who had a major impact on their team.
Here is a list of all of the Defensive TOTY players and their full ratings:
TOTY Defense
TOTY Defensive Rookie Standouts
Solos
The Team of the Year: DEF solos are split into two sequences. The first sequence is 11 challenges and rewards you with 10k coins and 1x Random Rookie Standout DEF NAT Player.
The second sequence is also 11 challenges, but you'll earn 21,750 coins and a random DEF NAT TOTY Player (94-96 OVR).
Sets
There are three TOTY sets currently available.
Defensive TOTY - Requires (12x) 83-87 DEF Rookie Standouts and (3x) 89+ DEF Rookie Standouts to complete. This set rewards you with (1x) 94-96 OVR DEF TOTY Player.
DEF Rookie Standout - Requires 2x Wildcard Gold Team Tokens and 1x Wildcard Silver Team Token to complete. Rewards you with 1x random Defensive Rookie Standout (83-93 OVR).
TOTY Trade In - Requires 1x TOTY Collectible and rewards you with 1x TOTY Player from Offense or Defense (94-96 OVR).
It's worth noting that the only way to get Offensive TOTY Players right now is through the TOTY Trade In set. Offensive TOTY Players won't be officially released until next week.
What are your first thoughts on the TOTY program?