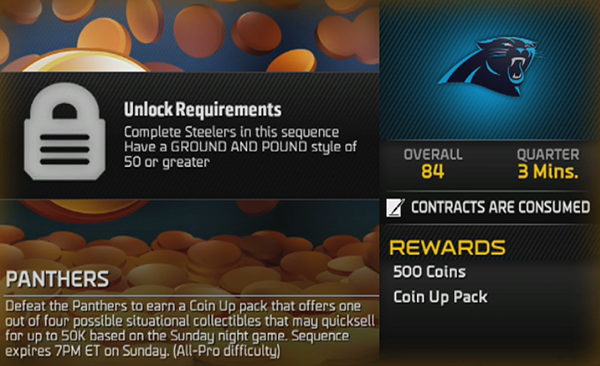 The Week 3 Coin-Up solo challenges are live featuring Sunday night's game between the Panthers and the Steelers. Defeating the first game in the sequence gives you 500 coins and a Steelers Coin-Up collectible that will be worth 2,500 coin if they win. If you think the Panthers are more likely to win, you can swap this collectible for the Panthers version using the weekly set.
The second solo challenge requires 50+ GP style to unlock in addition to defeating game 1. You get another 500 coins for winning along with a Coin-Up pack containing one of four possible scenario Coin-Up collectibles. If the scenario happens during the SNF matchup, it will be worth the listed amount on Monday. Here are the possibilities:
Antonio Brown has 100+ yards receiving (5,000 coins)
Panthers defense forces 3 or more turnovers (15,000 coins)
Kelvin Benjamin leads both teams in receiving yards (20,000 coins)
Steelers defense forces a safety (50,000 coins)
Which of these Coin-Up items do you hope to get in your Coin-Up pack?