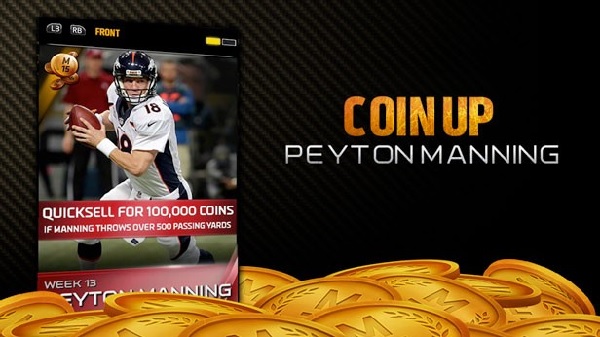 New Coin-Up content was released this morning for Sunday night's matchup between the Broncos and Chiefs.
Game one of the new solo challenge sequence comes with a 500 coin reward and a collectible that allows you to pick the SNF winner using the weekly sets. If you're correct, you will be able to discard the reward collectible on Monday for 2,500 coins.
Game two in the sequence rewards another 500 coins and it comes with a Coin-Up pack containing one of four possible scenario collectibles. If the scenario on the front of the card occurs, you will be able to quicksell it for the amount listed on Monday. Here are this week's possibilities:
Broncos force more than 1 turnover (5,000 coins)
Hall and Houston have 3 or more sacks combined (15,000 coins)
Charles gains over 150 rushing yards (25,000 coins)
Manning throws for over 500 passing yards (100,000)
Will Peyton come through for the MUT community and throw for over 500 yards on Sunday?