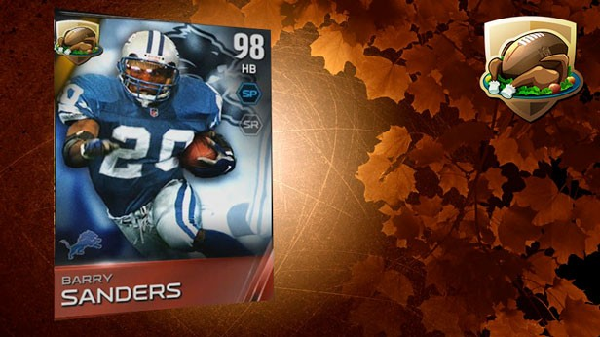 The MUT Thanksgiving Ultimate Feast is making a return this year featuring your favorite players with memorable Thanksgiving performances. There are five Thanksgiving legends you can unlock this year:
You can see all of the new Ultimate Feast players using our database here.
If you played MUT around this time last year, you're likely already familiar with what you can expect from the Ultimate Feast. The food collectibles are back in packs and you'll need them to complete the sets that unlock the best players the Thanksgiving content has to offer. Here are the Ultimate Feast sets:
The Ultimate Feast set requires a ridiculous 100 Turkey collectibles, but the reward may be worth it. You will unlock a Cornucopia pack that includes 12 gold or better player items including 1 guaranteed Thanksgiving legend.
Starting today, there will be a new solo challenge each day representing the NFL teams playing on Thanksgiving day this year. You can use these to get a head start on Ultimate Feast sets as they reward the collectibles you will need.
For more information on the Ultimate Feast, check out EA's official blog post.
What do you think of the return of the Ultimate Feast to Madden Ultimate Team?