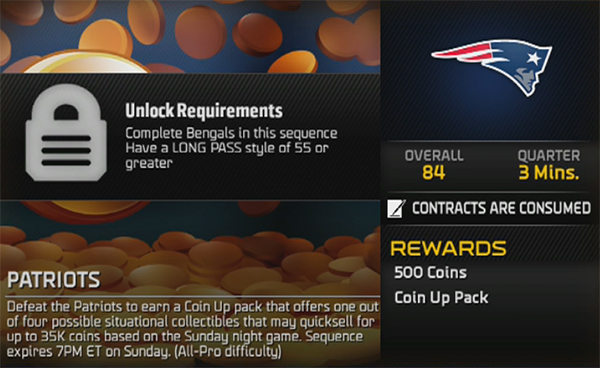 With all the excitement over the launch of BCA packs today, week 5 Coin-Up content came in under the radar. Defeating game 1 of the two-game solo challenge sequence rewards you with 500 coins and a Week 5 Coin-Up collectible that is used in weekly sets. Choose the set for the team you think will win Sunday night's matchup between the Bengals and Patriots. If you're correct, you will be able to quicksell that team's Coin-Up collectible Monday morning for 2,500 coins.
The second game in the sequence requires LP style of 55 or more. You once again receive 500 coins along with a Coin-Up pack containing one of four possible scenarios from the SNF matchup. If the scenario occurs, you will be able to discard it for the amount on the card. Here are this week's possibilities:
Bengals hold Gronk to under 2 TDs (5,000 coins)
Patriots have more than 2 sacks (10,000 coins)
Patriots score more than 24 points (25,000 coins)
Dalton throws for over 300 yards (35,000 coins)
Which scenario do you hope to get?