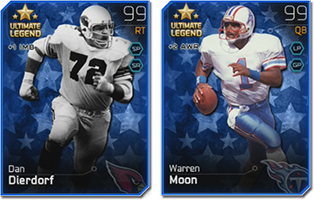 Over the weekend two new Ultimate Legend cards were released for Dan Dierdorf and Warren Moon. Both players have a 99 OVR rating and offer stat boosts to your entire lineup while they're on the field. Dierdorf gives +1 to your team's impact blocking while Moon gives +2 to your team's awareness.
You'll need to complete an 18 card collection to unlock Dierdorf. The collection contains 17 rookie legends along with 1 Ultimate Legend collectible that can be found in packs. In addition to Dierdorf's new player card, the collection rewards 5,000 coins. If you're looking to have Moon lead your passing attack, you can find him directly in packs.
How do you feel about this week's selections for the Ultimate Legend program?