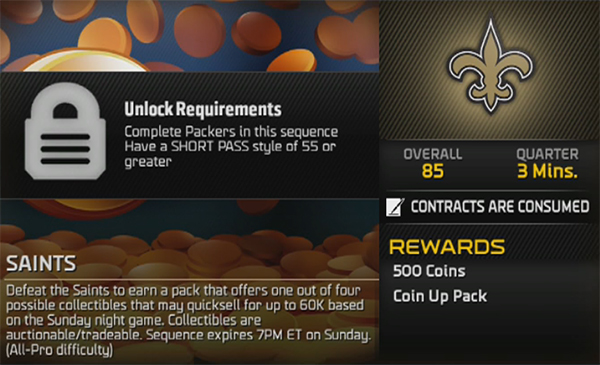 Week 8 Coin-Up content is live featuring the Sunday Night Football matchup between the Packers and the Saints. The first game in the new solo challenge sequence rewards 500 coins and a collectible that is used in the weekly sets to pick the SNF winner. If you are correct, you will be able to quicksell the set reward collectible Monday morning for 2,500 coins.
The second game in the sequence requires 55+ SP style. Defeating it gives you another 500 coins along with a Coin-Up pack containing a scenario collectible. If that scenario occurs during the game, you will be able to discard it for the value listed the next day. Here are this week's possibilities:
Saints have over 415 total offensive yards (7,500 coins)
Packers defense allows less than 24 points (15,000 coins)
Eddie Lacy rushes for 150 yards or more (20,000 coins)
Saints defense has 5 or more sacks (60,000 coins)
Which scenario collectible do you hope to find in your Coin-Up pack?